With 20+ Tasting Rooms To Sample
The Urban Wine Trail is home to some of Santa Barbara's most prestige's wines. After one visit, you'll learn why it is not only popular amongst guests, but residences of Santa Barbara as well.
The Trail covers three neighborhoods, all walkable, giving you access to many of Santa Barbara's unique shops and restaurants as well as explore the fine craft of wine making. Bring your comfy shoes if you are going to walk and enjoy the day!
This wine tour includes transportation between wine districts.
Group sizes: 4-16 people
Price per person: $ 69.00
Total Tour Time: 4 hours
Amenities:
Pick-up and Drop-off wherever is convenient for you.
Optional Gourmet Lunch
Plenty of Water
Comfortable Chauffeured ride large enough to fit groups 2-16 people
Tour guide through the Funk Zone
Tour guide through the Lagoon District
Tour guide through the Historic Presidio
Choose your wineries or let us pick for you.
*Customers pay for their own wine tasting. Ask us about 2 for 1 tastings.
* Not a group of 4 or more? Check out our Couples Wine Tours
Pick Up Location:
Wherever is most convenient for you.
Visit The Downtoan Santra Barbara Location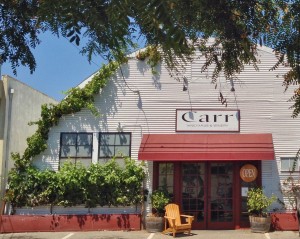 414 N. Salsipuedes Street
Santa Barbara, California
Ph: (805) 965-7985
Visit the 1940's Quonset Hut in downtown Santa Barbara and enjoy the ambiance of a working winery while sipping on delicious wines at the beautiful barrel top bar. Wines by the glass, wine tasting, and wine on tap served daily! Monthly art shows and live music.
* Reservations recommended * Please call the tasting room to make a reservation at (805) 965-7985
Tasting Room Hours
Monday – Saturday 11AM – 9PM
Sunday 11AM – 6PM
Santa Ynez Tasting Room & Warehouse
3563 Numancia St. #101
Santa Ynez, CA 93460
805-688-5757
Visit our 3800 sq. ft. climate controlled wine storage facility in downtown Santa Ynez. The warehouse is where all of the Carr Wines are waxed, bottle aged and crated in wood boxes for shipment. The facility has an open floor with a u-shaped bar and booths for you to enjoy wine tastings, wines by the glass, and wine on tap. Live music on Friday evenings.
* Reservations recommended *
Please call the tasting room to make a reservation at (805) 688-5757
Tasting Room Hours
Open Daily 11AM – 6PM
Friday 11AM – 8PM
I was extremely happy with Sammy's limo service in Santa Barbara. They took great care of us from the time they picked us up to the very minute they dropped us off. We had an amazing time in Santa Ynez and owe it to these limo pros for making it possible. We will be using them again in the near future, guaranteed!
Chet T., Huntington Beach, CA